I really enjoy Jessica Hagy's Indexed blog: it combines social commentary and snarky "math" in the form of hand-drawn graphs. But today's entry, a Venn diagram of Poverty, Materialism, and the Desire for Status where the union of all three was "Babies with Pierced Ears" touched on questions of ethnicity and race. Unintentionally, I believe.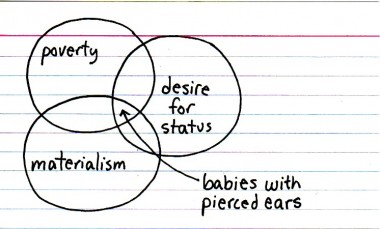 Image from Indexed blog.
Take a look at the discussion in the comments section... And then take a look at the rest of her blog, it's terrific!